Event Details
Office Ergonomics: Strategies You Can Implement Today!
Date:
August 9, 2012, 11:30am – 1:00pm
Organizer:
Location:

Lifelong Learning Center
Northeast Community College

Price:

$10 Guests No charge for NAHRA members.

Event Type:
iCal link
On the job injuries such as repetitive stress syndromes cost companies enormous sums of money. Maintaining a healthy workforce through improving office ergonomics and injury prevention strategies, can save money and increase morale among employees.
Each year employees have injuries caused by faulty office ergonomics. The most important treatment is identifying the root cause and making appropriate changes with the person's habits and work environment. It is also essential that the individual becomes well educated on overall proper mechanics and ergonomics to correct the problem and prevent it or other problems from occurring in the future. True success comes when we prevent an injury from ever occurring. Office ergonomics is a colossal field in terms of available furniture, equipment and information. It can become overwhelming as to where/how to begin and what is truly necessary. This session will provide the most current office ergonomics knowledge and research in an easily comprehendible presentation to help individuals that work in an office (and oversee others that work in an office) to grasp the key concepts and implement them right away.
Human Resource professionals typically work at a desk in an office and have employees that do as well. Faulty office ergonomics is a common cause of musculoskeletal pain. Employees may bring forth complaints to Human Resources professionals because of the pain and injuries caused by faulty office work stations and/or habits. It is important for Human Resource professionals to understand that deficient office ergonomics may be the cause of their pain and know that there are relatively quick and inexpensive solutions to the underlying problem.
Learning Objective:
Each participant will learn simple applications they can implement easily and affordably to make their office space ergonomically correct
Each participant will learn how to decrease their risk of injury and musculoskeletal pain often created by faulty office/desk set-up.
Program Presenter: Sheri Sheriff, PT, DPT Faith Regional Health Services
Sheri is a graduate from the University of Nebraska Medical Center with a Masters in Physical Therapy, and Des Moines University with a Doctorate in Physical Therapy. She has been practicing physical therapy for 14 years. She is the Outpatient Therapy Manager at Faith Regional Health Services, where she has worked since 2006. Sheri has helped develop several specialized programs at Faith Regional including programs involving vestibular dysfunction, occupational medicine, osteoporosis, office ergonomics, pre- and post-natal therapy, and cancer rehabilitation and wellness. She is a Certified Functional Capacity Evaluator, Certified Industrial Rehab Specialist and a STAR (Survivorship Training and Rehabilitation) Certified Clinician. Sheri focuses on complete rehabilitation, prevention of future problems, and patient education. Sheri enjoys spending time with her family and likes to run, ski, fish and travel.
Click HERE to RSVP your intention to Judy Warneke by noon on Monday, August 6th.
This program has been approved for 1.0 (General) recertification credit hours toward PHR, SPHR and GPHR recertification through the HR Certification Institute. For more information about certification or recertification, please visit the HR Certification Institute website at www.hrci.org.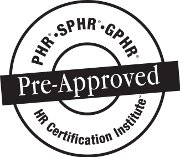 The use of this seal is not an endorsement by the HR Certification Institute of the quality of the program. It means that this program has met the HR Certification Institute's criteria to be pre-approved for recertification credit.