Event Details
Jackson Lewis Breakfast Briefing: 2012 H.R. Updates
Date:
June 14, 2012, 7:30am – 9:30am
Organizer:

NAHRA and Jackson Lewis LLP - Omaha

Location:

Lifelong Learning Center - NECC
Doors will be open at 7:00 am for complimentary breakfast.
Presentation will begin promptly at 7:30 am.

Event Type:
iCal link
For questions about this seminar, please contact Kathy Korth at (402) 391-1991 or korthk@jacksonlewis.com
Session Overview:
2011 marked a big year in labor and employment law. The Supreme Court issued significant decisions, the National Labor Relations Board focused on creating rules and deciding cases affecting non-union workforces, and the EEOC changed course in how it reviews administrative charges.
Add OSHA, and employee threats through social media and by competing with their former employers, and 2011 quickly becomes an overwhelming tidal wave of labor and employment law compliance issues.
This presentation will highlight significant shifts in the labor and employment landscape and provide a list of new updates to guide you through the storm.
Speaker: Kenneth M. Wentz III
Kenneth M. Wentz III is a Partner in the Omaha office of Jackson Lewis LLP and concentrates exclusively on the representation of management in litigation and the resolution of employment disputes. Mr. Wentz is a former President of the State Bar of California Young Lawyers Division, which has over 40,000 members. Mr. Wentz serves as an advocate for employers in federal and state courts throughout the Midwest and California, prevailing on numerous motions to dismiss and obtaining summary judgments to gain victory and avoid the expense of trial where possible. Mr. Wentz also represents employers in alternative dispute resolution and on appeal. In addition, Mr. Wentz aggressively defends companies against class action lawsuits, which has led to favorable settlements in California and Iowa, and the defeat of class certification in a complex ERISA action. Mr. Wentz defends OSHA claims and charges of discrimination before state and federal administrative agencies.
In addition to his litigation practice, Mr. Wentz counsels and advocates for employers on a range of employment issues, such as drafting and enforcing non-competition, non-solicitation, and confidentiality agreements, compliance with state and federal employment laws, OFCCP compliance, and responding to civil subpoenas and investigative demands.
This program has been approved for 2.0 (General ) recertification credit hours toward PHR, SPHR and GPHR recertification through the HR Certification Institute. For more information about certification or recertification, please visit the HR Certification Institute website at www.hrci.org.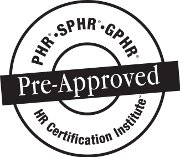 The use of this seal is not an endorsement by the HR Certification Institute of the quality of the program. It means that this program has met the HR Certification Institute's criteria to be pre-approved for recertification credit.