Event Details
THE HIRING PARADOX - The Advantages of Background Screening
Date:
November 8, 2012, 11:30am – 1:00pm
Organizer:
Location:

Lifelong Learning Center
Northeast Community College

Price:

No cost to NAHRA members. Guests: $10 - includes meal

Event Type:
iCal link
If 85% of applicants don't have criminal records ~ Then 15% have a criminal history.
If 60% of applicants don't falsify or exaggerate their resumes ~ Then 40% either exaggerate or falsify their resumes.
If 67% of employees don't steal from employers ~ Then 33% of your employees potentially will steal.
If 28% of employers win negligent hiring lawsuits ~ Then 72% of employers lose negligent hiring lawsuits.
Comprehensive Employment Screening Can Help You:
Improve Employee Selection
Enhance Employee Retention
Reduce Liability Exposure
Attendees at this session will be educated on the regulatory changes effecting legally defensible screening and will be provided information about national issues that are changing how companies establish background screening policies and procedures.
Presented by: Thomas Noack, VP / National Sales - Protec Background Screening. Involved with background screening for over 12 years, Tom has had the opportunity to work with a wide variety of businesses. Their firm was established and is managed by an attorney who works closely with major employment law firms in Nebraska jointly working on background screening issues. Working with many different types of companies they consistently promote the use of legally defensible methodologies in establishing background screening policies and procedures customized to their client's industries.
Click HERE to register for this event.
Special Guest: In addition to the program, we are excited to have Nancy Conway, SHRM Field Services Director – North Central Region attending this meeting as well, to speak to our members about the value of a SHRM membership.
This program has been submitted for General recertification credit hours toward PHR, SPHR and GPHR through the HR Certification Institute. For more information about certification or recertification, please visit the HR Certification Institute website at www.hrci.org.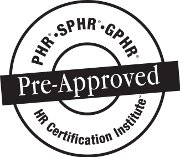 The use of this seal is not an endorsement by the HR Certification Institute of the quality of the program. It means that this program has met the HR Certification Institute's criteria to be pre-approved for recertification credit.