Event Details
Leadercast 2015 - The Brave Ones
Date:
May 8, 2015
Organizer:
Location:

Lifelong Learning Center
Northeast Community College
801 E Benjamin Ave
Norfolk Nebraska

Event Type:
iCal link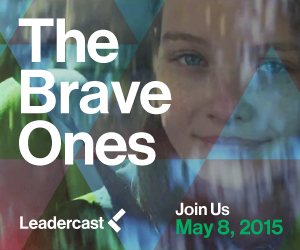 Community and business leaders can access the knowledge and experience of world-renowned leaders by attending Leadercast® at Lifelong Learning Center in Norfolk, NE on Friday, May 8, 2015.
Brave leaders disrupt industries through innovation, stand firm in the face of opposition, and embrace risk. Join a community inspired by those who demonstrate bravery and leave equipped to take on your next leadership challenge.
---
Click HERE for more information about Leadercast 2015!
Click HERE to Purchase Tickets!!
Unable to attend on May 8th? View Leadercast 2015 on Your Own Device!!
Watch Leadercast Live on May 8th, 2015 on your own device AND replay for 10 days to view the event on your own schedule.
Normally $129, use our exclusive Simulcast Site access code to get $30 off!
Type in this access code: tbo719

Enjoy a re-play of Leadercast 2015 for 10 days until May 20th!
---
Leadercast® is a one-day event broadcasted live from Atlanta. Last year, over 130,000 leaders from 35 countries attended Leadercast® Now, in its 16th year, this full day, experiential conference is on track to reach it's largest audience to date. Join the conference that is changing the way the world thinks about leadership by building leaders worth following!!
This year's theme — The Brave Ones — challenges leaders to lead with a sense of bravery, possessing a posture of unrelenting boldness. Bring your friends or team members to experience Leadercast® and discover what it means to be a leader worth following.
---
This year's speaker lineup includes:
Andy Stanley - Leadership author and communicator
Peyton Manning - Super Bowl-winning Quarterback & 5-time NFL MVP
Malala Yousafzai - Nobel Laureate; Founder, The Malala Fund
Ed Catmull - President of Pixar & Disney Animation Studios
Seth Godin - Best-selling Author
Rudy Giuliani - 107th Mayor of New York City (1993-2001)
Aja Brown - Mayor, City of Compton
Bill McDermott - CEO of SAP AG
CMDR Rorke Denver - Navy SEAL Commander & Author
Bill & Giuliana Rancic - Award-Winning Personalities & Co-Hosts of Leadercast
And more!
---
A big 'Thank You' to our event Partners: