Chapter Awarded 2013 SHRM Bronze EXCEL Award!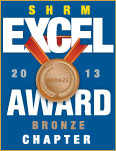 The Society for Human Resource Management (SHRM) has awarded the Norfolk Area Human Resource Association the EXCEL Bronze Award for 2013.
The award is part of the SHRM Affiliate Program for Excellence, which aligns individual chapters with SHRM. The award recognizes a chapter's accomplishments and strategic activities and initiatives that promote the human resources profession at the local level.
"This recognition is a distinct indication of the chapter's successful partnership with SHRM to serve the networking and professional development needs of human resource professionals and to the advancement of the human resources profession" said J. Robert Carr, senior vice president, membership, marketing & external affairs for SHRM.
Norfolk Area Human Resource Association serves the Norfolk and northeast Nebraska area HR and business community by continually striving to design quality educational programming that benefits its members and the companies they represent. The annual symposium focuses on training for business owners, managers and supervisors, and NAHRA is a local host site for Leadercast Live, a one-day leadership event broadcast LIVE from Atlanta to hundreds of locations around the world. In 2013, NAHRA partnered with the Nebraska SHRM State Council on the HR for Small Business initiative, bringing HR specialists to Norfolk to provide training specifically designed for small businesses.
About the Norfolk Area Human Resource Association
The Norfolk Area Human Resource Association was formed by local human resource professionals and, at the time of formation, was referred to as the Norfolk Personnel Association. NAHRA was certified as a SHRM Affiliate Chapter in 2005. Its membership includes representatives of large and small employers from public, private and non-profit sectors of the business community. Members and guests meet monthly with featured speakers providing training, round table discussions, legal updates, insight into what issues our peers are dealing with and gathering to advance the profession of HR through networking.
About the Society for Human Resource Management
Founded in 1948, the Society for Human Resource Management (SHRM) is the world's largest HR membership organization devoted to human resource management. Representing more than 275,000 members in over 160 countries, the Society is the leading provider of resources to serve the needs of HR professionals and advance the professional practice of human resource management. SHRM has more than 575 affiliated chapters within the United States and subsidiary offices in China, India and United Arab Emirates. Visit us at shrm.org and follow us @SHRMPress.